Anurag and Anita's Bengali Wedding Celebration
Anurag and Anita's Bengali Wedding Celebration
A Whirlwind Romance: Anurag and Anita's Bengali Wedding Celebration
Love has a mysterious way of bringing two souls together, transcending boundaries and creating a connection that is truly extraordinary. Such was the case for Anurag and Anita, who crossed paths on Shadi.com, an online matrimonial platform. Their story is a testament to the power of fate and the magic of love.
A Serendipitous Meeting
Anurag, an engineer working in a semiconductor multinational company. Anita, a research scholar, found each other amidst the virtual realm of Shadi.com. Despite their different backgrounds and professions, they discovered a deep connection that drew them closer with each passing conversation. It became evident that they complemented each other perfectly—Anita's vivacity balancing Anurag's calm and supportive nature.

Love at First Click

Within just two weeks of shortlisting each other's profiles on Shadi.com, Anurag and Anita felt an undeniable bond that transcended virtual boundaries. They realised that their connection was too strong to be confined to the online platform. And they decided to take a leap of faith and commit to spending their lives together.

An Enchanting Venue in Faridabad, Anurag and Anita's Bengali Wedding Celebration

Anurag and Anita's Bengali Wedding Celebration, they chose the enchanting city of Faridabad, located in the Indian state of Haryana. Faridabad offered a picturesque backdrop with its blend of urban sophistication and natural beauty, providing the perfect setting for their special day. The venue was meticulously adorned, radiating a sense of elegance and charm, reflecting the love that filled the air.

The Bengali Wedding Extravaganza

Anurag and Anita's wedding was a beautiful Bengali affair, replete with rich traditions, vibrant colours, and joyful festivities. The ceremonies commenced with the auspicious rituals, where the couple sought blessings from their elders and embarked on a journey of eternal togetherness. The air was filled with the melodious beats of traditional music and the aroma of delectable Bengali delicacies, heightening the sense of celebration.

Candid Photographs: Portraits of Love and Happiness, Anurag and Anita's Bengali Wedding Celebration

The wedding photographs of Anurag and Anita turned out to be a true reflection of their love and the joyful emotions that filled the atmosphere. The skilled wedding photographers expertly captured candid moments, freezing the genuine smiles, laughter, and heartfelt expressions of the couple and their loved ones. Each photograph was a testament to the love and happiness that enveloped the wedding celebration, creating memories that would be cherished for a lifetime.

Anurag and Anita's love story is a testament to the power of destiny and the beauty of finding one's soulmate in unexpected places. Their Bengali wedding in Faridabad was a magical affair, filled with love, tradition, and joyous celebrations. The candid photographs captured the essence of their special day, preserving the genuine emotions and creating a treasure trove of memories. As Anurag and Anita embark on their journey of marital bliss, their love story continues to inspire, reminding us that true love knows no boundaries and that the beauty of a wedding lies in the authentic moments that are forever cherished.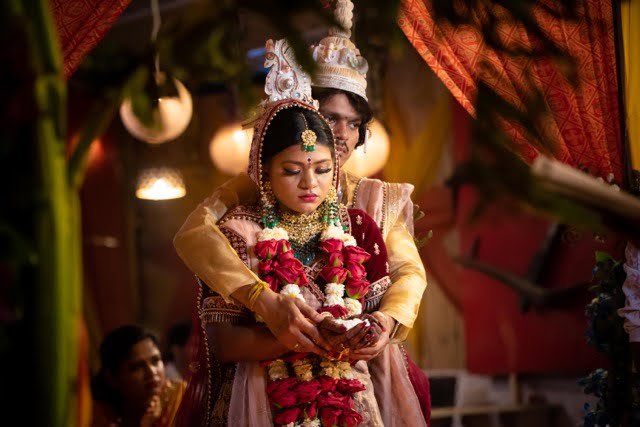 Photography by: Atul Ghosh and Vipin Patel
Summary
Article Name
Anurag and Anita's Wedding Celebration
Description
Anurag and Anita's Wedding Celebration. Their story is a testament to the power of fate and the magic of love.
Author
Publisher Name
Random Clicks Photography
Publisher Logo